When my daughter was 5, she wanted to do everything just right. "Everyone makes mistakes," I would tell her as she crumpled up another piece of paper. "They are part of how you grow." She was skeptical.
A picture book came to the rescue: Barney Saltzberg's Beautiful Oops. On each page, Saltzberg transformed an artistic "error" into whimsical delight. The phrase "Let's turn it into a beautiful oops" became our mother-daughter code when things went wrong.
That same year, I went hunting for books to help my expressive 3-year-old son learn more about his emotions. His favorite was Today I Feel Silly, by Jamie Lee Curtis—yes that Jamie Lee Curtis. Her character's larger-than-life moods matched his own.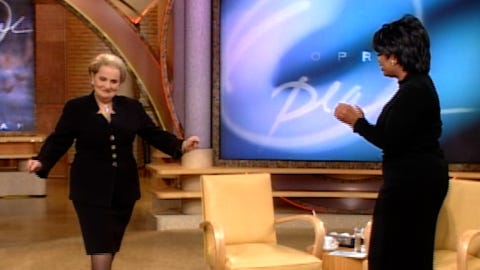 Fast-forward to 2022. Saltzberg and Curtis—real-life friends—have teamed up to write a new picture book called What Do You See? A Conversation in Pictures. I recently sat down to talk with them about their book and why they so enjoy writing for children.
Deborah Farmer Kris: April 2 is International Children's Book Day. So let's start there. Why do you write books for kids?
Jamie Lee Curtis: I never thought I'd write a book in my life. I barely got out of high school. Then one day, my 4-year-old mentioned to me, "Back in the day, I used diapers, but now I use a potty." When she walked out of the room, I sat in my office with tears in my eyes and wrote on a piece of paper, When I Was Little: A Four-Year-Old's Memoir of Her Youth.
I didn't even know it was a book—I just made a list of things that Annie once couldn't do and now could. And at the end of the list, I wrote three things that made me cry: "When I was little, I didn't know what a family was. When I was little, I didn't know what dreams were. When I was little, I didn't know who I was. But now I do." And in that second, I realized it was a book for children about identity. That began my career as an author. Since then, books come to me like a muse. When I don't expect it, one slams into my head.
Barney Saltzberg: I get a lightning bolt on a regular basis. It drove my kids crazy when they were little. I'm constantly thinking of titles. So if my son came home and said, "I'm hungry," I'd go, "Good title."
And he'd go, "I'm really hungry."
"That's a better title."
"I'm telling mom."
"Don't like that title."
When I was in school, I was like Jamie. I was always getting sent home with notes saying, "I think your child has potential, but we're just not sure what to do with him." I had a lot of learning issues that they just didn't diagnose in those days. But I had a mom who was a reading and studies skills counselor at UCLA, and she gave me enough tools to get through. In college, I studied art because John Lennon studied art. After college, I saw a William Steig book, The Amazing Bone. And I flipped out. I thought, My gosh, this is like a small movie. You get to be Spielberg: You're the actor, director, set designer, everything. And for somebody who as a kid felt a little lost and a little out of control, I found a career that allows me to control everything—except the sales.
Let's talk about your latest book. It's a collaboration called What Do You See? A Conversation in PIctures. Jamie, you took photographs and sent them to Barney, who used art to transform them in unexpected ways. How did this book come about?

Curtis: I am a photographer. I love the stories you can tell with pictures. Barney once grabbed something off my Instagram and sent it back to me in a new form. It was like creative flirting, even though we're both happily married. And so I started sending him random pictures. A picture of a shell on a beach is hardly fine art, but what Barney does to it is really something extraordinary. That's my part of the dance. I would send him something and think, He's going to totally vibe with me on this. And then he would blow my mind, and I'd be like, "Oh, I didn't even think about that!" And then once in a while, we would see the same thing.
Saltzberg: While I don't celebrate Christmas personally, making this book was as close to Christmas as I could get. I'd be doing whatever I was doing and all of a sudden there's a text and a photo from Jamie. I would drop everything and run over to my iPad to draw on it and send it back. It was a wonderful dance. These pictures we shared back and forth became a book that celebrates both the differences and the connectivity between people.
Curtis: In this world today, there are so many opportunities for conversation about differences. I'm the parent of a child with learning differences. I have spent years learning about how people think and see and learn differently. Without this being a proselytizing book, the conversation is that nobody is the same, everybody sees things differently. The embrace of that conversation—and the safety of it—is what's important.
I just released my first two picture books— I Love You All the Time and You Have Feelings All the Time. When I was writing them, I would imagine parents and grandparents snuggling with their kids at bedtime, reading together. Probably because read-aloud is my favorite part of parenting! Do you ever think about the grown-ups when you write your books?
Curtis: Years after I started writing books for children, I played the mother of a boy named Nicholas Green in the movie The Nicholas Effect [the true story of a boy who was killed while vacationing in Italy]. In this incredibly difficult moment in the hospital, his parents decide to donate his organs. And what the father says to his wife in that horrible waiting room is this: "The thing I'm going to miss most is the weight of him on my lap during story time."
What I realized in that moment was the power of being an author. Yes, I'm an actress, and I've sold yogurt, and I'm silly and vulgar and all the crazy things that I am—but I write books.

And what that means to me is that I am a catalyst for that moment between an often exhausted parent and a child. Think of the triangle that is created when your arms are around a child and you're holding a book. Books become treasured connection points. That is a privilege that I feel deeply. That is why I'm an author.
Saltzberg: Yeah. It's a helluva gift. A helluva gift. As a writer, I plant seeds. You feel it when you send out books into the universe and people tell you how, say, Beautiful Oops has impacted them, how it's become part of the lexicon in houses. That's mind-blowing.
Deborah Farmer Kris is a parenting columnist for PBS KIDS, an education journalist, and the author of the picture books I Love You All the Time and You Have Feelings All the Time.
This content is imported from OpenWeb. You may be able to find the same content in another format, or you may be able to find more information, at their web site.